Contact
Address: The Guild Church of St Dunstan-in-the-West, 186a Fleet Street, London EC4A 2HR
Email: administrator@stdunstaninthewest.org
Tel: 020 7405 1929
The Guild Vicar: The Revd James Wilkinson
Email: administrator@stdunstaninthewest.org
Tel: 020 7405 1929
Enquiries about bellringing: Dickon Love – dickon@lovesguide.com – 07983 352279
Biserica Ortodoxã Românã din Londra – Parohía Românã Sf Gheorghe/St Dunstan din Londra – The Romanian Orthodox Church in London:  The Very Reverend Fr Silviu Petre Pufulete, 07941 134748 or please refer to the Romanian Orthodox Church website
Visiting the Church
Visitors are always welcome at St Dunstan-in-the-West to look around or pray and light a candle. The Blessed Sacrament is reserved in the sanctuary.
We are grateful to have Friends of the City Churches church watchers on hand on Tuesdays 11.00 am-3.00 pm to answer visitors' questions about the history of the church.
History: A booklet detailing the history of St Dunstan's is available at the back of the church (price: £2.50: please put the money in the Church of England donations box near the exit doors)
Donations to the church are greatly appreciated. No charge is made to visitors, but we would simply remind all those that do visit that the annual maintenance costs and the costs involved in keeping the church open are substantial, and we appeal for your support.
There is a donation box at the rear of church near the exit doors which makes provision for both contactless card payments as well as cash.
If you would like to make a donation by cheque please make it payable to: "St Dunstan-in-the-West GCC"
Genealogy: Birth, Marriage & Death registers and Vestry Books dating from 1518 are held at the London Metropolitan Archives.
How to reach St Dunstan's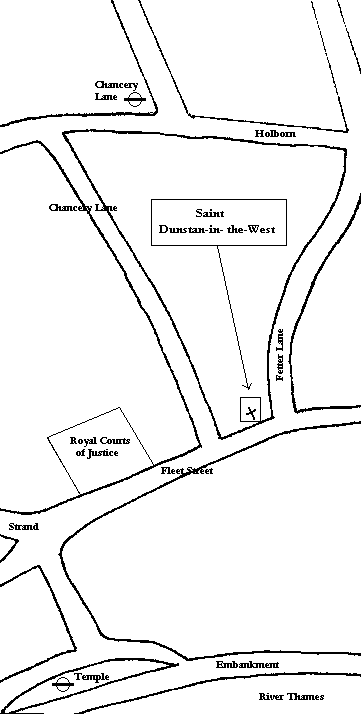 Underground: Chancery Lane (Central line), Temple (Circle and District lines) or Farringdon (Metropolitan Line)
Bus: Routes 4, 11, 15, 23, 26, 76, 172 and 341 (alight at the Fetter Lane bus stop)
Mainline train: The church is a 15-minute walk from Farringdon station, a 20-minute walk from Charing Cross and Blackfriars, and a short bus ride from Waterloo.