Welcome to the Guild Church of St Dunstan-in-the-West.
Having been closed since early October 2021 for refurbishment, including, among other things, re-wiring, re-lighting and the installation of fire detection and audio-visual systems, the Guild Church of St Dunstan-in-the-West opens again at 11.30am on Saturday 21st May with Mass (celebrated by the Bishop of Fulham) marking the church's Patronal Festival. Members of the public are most welcome.
This historic church, an Anglican Guild Church in the City of London proclaiming the glory of God in Jesus Christ and serving the local working community and tourists, provides a haven for private prayer in the midst of the city's bustle. It was first founded around 1000 AD, and the present building has stood on Fleet Street for 180 years.
For all the latest information about services, events and music recitals, please follow us on Twitter and like us on Facebook (see side bar on the right).
We welcome our brothers and sisters of the Romanian Orthodox Church (La Biserica Ortodoxã Românã din Londra – Parohía Românã Sf Gheorghe/St Dunstan) and members of the Romanian community in London, for whom St Dunstan's has been the spiritual home for over 50 years.  Please note that at present Romanian Orthodox services are being held at St Mary le Strand while St Dunstan's undergoes significant infrastructural refurbishment.
Our sixteenth century statue of Queen Elizabeth I can be seen above the porch in our churchyard. The statues of King Lud and his sons are under the porch.
Safeguarding
For information regarding safeguarding, please click here.
---
Sermons
Patronal Festival 2019: The Dean of Westminster
The Week of Prayer for Christian Unity 2017: the Guild Vicar's Sermon
The Archdeacon's Sermon for the Licensing of Fr Barry Orford
---
St Dunstan-in-the-West on film
'50 Things to do in a Church' with Michael Palin (National Churches Trust)
Crossing Cultures in Ministry (USPG)
---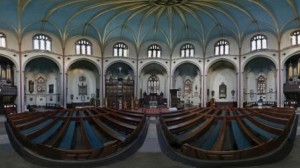 St Dunstan's has a noble history of inclusivity and variety. Luminaries of the Christian tradition played their part in the first thousand years of this church's life. Now we rejoice in being a centre of ecumenical encounter, dialogue and hospitality, where prayer for the unity of the Church is at the heart of our mission.
May the Spirit who hovered over the waters when the world was created breathe into you the life He gives.
May the Spirit who overshadowed the Virgin when the eternal Son came among us make you joyful in the service of the Lord.
May the Spirit who set the Church on fire upon the Day of Pentecost bring the world alive with the love of the risen Christ.