Welcome to the website for St Dunstan-in-the-West
This historic church, an Anglican Guild Church in the City of London proclaiming the glory of God in Jesus Christ and serving the local working community and tourists, provides a haven for private prayer in the midst of the city's bustle. It was first founded around 1000 AD, and the present building has stood on Fleet Street for 180 years. St Dunstan's is delighted with the appointment of the Rt Revd Jonathan Baker as Guild Vicar. Bishop Jonathan is also the new Bishop of Fulham. Please see our News page for details of Bishop Jonathan's ministry.
You are always welcome to join us for our regular Church of England service of said Holy Communion on Tuesdays at 12.30 pm. Please see Services and Events. 
The church is normally open Monday-Friday, appx 9.30 am-5.00 am, for visitors and private prayer. The Blessed Sacrament is reserved in the sanctuary and there are votive candlestands. St Dunstan's remains grateful to Friends of City Churches churchwatchers for their friendly and knowledgeable presence at the church on Tuesdays.
We welcome our brothers and sisters of the Romanian Orthodox Church (La Biserica Ortodoxã Românã din Londra – Parohía Românã Sf Gheorghe/St Dunstan) and members of the Romanian community in London, for whom St Dunstan's has been the spiritual home for almost 50 years. Click here Who are we? – Romanian Orthodox Church for contact details and a listing of regular and special services.
We are delighted to be able to advise that our wonderful statue of Queen Elizabeth I is now on view again after the removal of the scaffolding on the building next door and in our churchyard. The statues of King Lud and his sons are under the porch in our churchyard.
Our popular and varied series of lunchtime recitals continues at 1.15 pm on Wednesdays. Please see our webpages Services and Events and News for further details of all our recitals.
In January an urgent message was received from ALMA (Angola London Mozambique Association), the Bishop of London and the Bishop of Lebombo (Mozambique) about devastating floods in Mozambique. Click here News for full details of the extent of the flooding and how you can make a financial donation towards church-based flood relief, or click here ALMA to learn more.
Fairtrade: The Diocese of London is a Fairtrade Diocese, and St Dunstan-in-the-West is committed to using Fairtrade tea, coffee and sugar, and some Fairtrade wine and biscuits. Visit our News page and Fairtrade; and also Christian Aid, which helped establish the Fairtrade Foundation in 1992, and Traidcraft (whose products are available at Oxfam shops as well as online). Also, JustShare, based at St Mary le Bow Church in the City of London, regularly gives lectures on the subjects of fairtrade, social justice and global development. Do also visit Christian Aid's website and our News page for details of Christian Aid's Harvest Appeal on behalf of the Abuí community in the Amazonian rainforest.
Bookstall: Secondhand books (paperback & hardback fiction, miscellaneous books), are always available for sale on our bookshelves at the back of the church to help raise funds for the church. Do come in, browse and buy!
We currently have two refreshment stalls in our churchyard offering individually brewed coffees and hot chocolate, cold drinks, croissants and pastries,  hot Mediterranean & Mesopotamian falafel and kofte (meatball) wraps, and watermelon. We are very pleased to have Notes Coffee Barrows and Med Mez as part of our church community and hope that you will support these enterprises when you are in the vicinity. There are tables & chairs in our south-facing churchyard where you are welcome to relax and enjoy some refreshment.
We are delighted that our new set of 10 bells is now very much in use for services, special occasions and bellringing practice. Please visit our News and Contact & Visiting pages for more details of this project and if you have an enquiry about bellringing; and the following websites for ringing lists and the history of the bells: http://london.lovesguide.com/dunstan-in-the-west.htm -  http://london.lovesguide.com/dunstanringingtimes.xls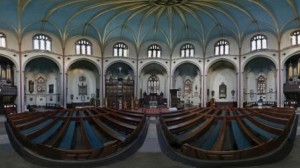 St Dunstan's has a noble history of inclusivity and variety. Luminaries of the Christian tradition played their part in the first thousand years of this church's life. Now we rejoice in being a centre of ecumenical encounter, dialogue and hospitality, where prayer for the unity of the Church is at the heart of our mission.
May the Spirit who hovered over the waters when the world was created breathe into you the life He gives.
May the Spirit who overshadowed the Virgin when the eternal Son came among us make you joyful in the service of the Lord.
May the Spirit who set the Church on fire upon the Day of Pentecost bring the world alive with the love of the risen Christ.